What is it?
Add excitement and attract players to your next golf tournament by featuring a hole-in-one contest!
In simple terms, if a player makes a hole-in-one on the specific covered hole, he/she will win the prize for that hole. Our coverage also provides enticing prizes for hole-in-ones made on the other par 3 holes during the tournament.  Making every par 3 on the course that much more exciting!
The cost to you is merely the minimal cost of the contract, we handle the rest.  For example, if a player makes a hole-in-one, Coast to Coast Hole in One is responsible for the prize certification and payment, not you. It is a win-win!
I'm interested! What is next?
We look forward to creating a customized hole-in-one coverage package for you.  To start, please provide:
– the number of players
– the yardage of the main prize hole
– the amount of the prize that you want to offer
Given this information, we will be able to provide you with a fast quote for the cost of the coverage.
Signage is included!  We offer attractive, weather-resistant signs with easy to install metal stakes. The signs can be customized to include lettering or logos – great advertising for your organization or sponsors.
Now the fun part- prize options!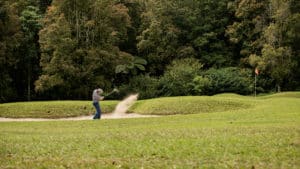 Make your event one to remember! We provide unparalleled packages, with highly sought-after prizes.  Prize options can be customized to your specific event, but most often offered prizes include new cars, golf trips, spending sprees, or cash prizes. Don't forget that along with the main prize, we include hole-in-one prizes for the remaining par 3 holes.
For more information, please see our FAQ tab, or contact us via Contact Us