About

Our Company

Our creative and attentive staff have over 75 combined years of golf and hole-in-one industry experience.  Coast to Coast Hole in One delivers customized, reliable hole-in-one coverage that will enhance your event, the experience for your tournament participants, and the impact of your fundraising efforts.  Let our friendly and knowledgeable sales team guide you through the simple sign-up process.  Not all coverage companies are the same - feel confident with the coverage provided by Coast to Coast Hole in One, as our contracts are backed by a highly rated underwriter (rated A+ by S&P and A++ by A.M. Best).
What is it? Add excitement and attract players to your next golf tournament by featuring a hole-in-one contest! In simple terms, if a player makes a hole-in-one on the specific...
READ MORE
Sponsor Signs Our signs are weather-resistant and can be customized with the event logo or sponsor information. Signs are shipped to you in advance of the tournament and are easy...
READ MORE
75+

Years Experience
With so many years of experience in the business, our company is your
source for the highest quality service.
Enhance

Your Golf Event

Perfect for Fundraising Golf Tournaments: Raise more money for your organization by offering a desirable prize for the golfer who makes a hole-in-one! For the charity, it is a low-cost, no-risk item that can be added to make for an unforgettable event! Increase sponsorship by offering "front and center" advertising - a weather-proof sign, customized with their logo, placed at the tee.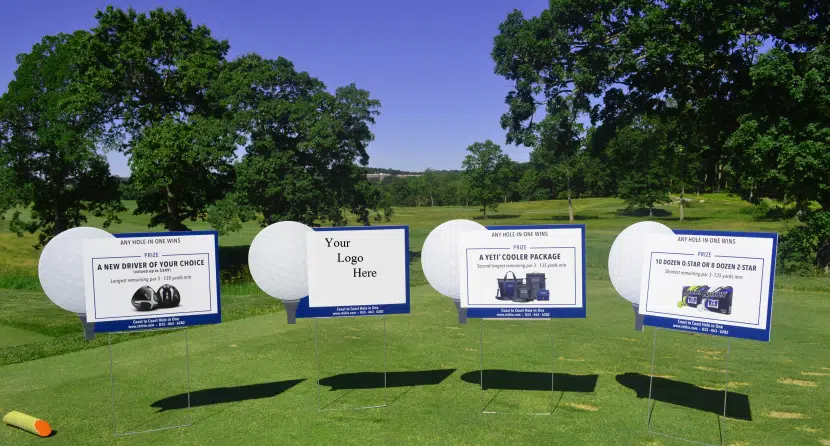 Having

a Hole-In-One challenge is a great way to add excitement to an event!

You never know when a hole-in-one is going to happen, or who is going to make it.  Having hole-in-one coverage at your golf event will ensure that every swing is covered and if one of your golfers manages to make an ace, you will be glad that you chose Coast to Coast Hole in One!